Dr Anthony (Tony) Roberts
(MBBS, FRACP)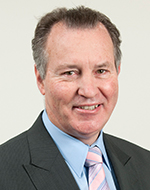 Dr Tony Roberts graduated from the University of Adelaide in 1975 and completed his advanced training in Endocrinology at Flinders Medical Centre and St Vincent's Hospital in Melbourne in 1982.  He spent the next three years as a NH&MRC Research Fellow at St Vincent's School of Medical Research researching the immunology of thyroid disease.
In 1985 he was appointed a Senior Consultant Endocrinologist at the Royal Adelaide Hospital and was Director of the Unit from 1990 – 1992.  He is currently the Medical Co-ordinator of the RAH Thyroid and Parathyroid Clinic.
He is Principal Investigator of SA Endocrine Research Pty Ltd and has conducted over two hundred international clinical trials.
He is also very committed to postgraduate teaching and gives numerous lectures each year.
Areas of Special Interest:
Type 1 and Type 2 diabetes
Insulin pump therapy
Continuous glucose sensing
Diabetes related complications including neuropathy
Diabetes in pregnancy
New agents available through clinical trials
Adrenal disorders
Thyroid disorders 
Parathyroid disorders
Osteoporosis 
Male & Female
Interpretation of bone mineral density measurements and use of non-invasive ultrasound to assess bone fragility
Paget's disease of bone
Gender identity disorder and transsexual hormone therapy (member of the SA Gender Dysphoria Unit)
Pituitary disorders
Male hypogonadism and erectile dysfunction
Professional Memberships:
Adelaide Clinical Endocrine Society
American Diabetes Association 
Australian Diabetes Society
Australian Medical Association
Australian Menopause Society
Australian & New Zealand Bone & Mineral Society
Australian & New Zealand Obesity Society
Australian & New Zealand Professional Association for Transgender Health
Australian Pituitary Foundation
Australian Thyroid Foundation
Endocrine Society of Australia
International Diabetes Federation
International Osteoporosis Foundation 
Royal Australasian College of Physicians
South Australian Salaried Medical Officers Association
The World Professional Association for Transgender Health
University of Adelaide Alumni
Locations:
Services Provided
The services provided by our friendly staff at Endocrine Consultants SA, provide you with the peace of mind that you will be receiving the best care possible to help you manage and treat your condition. Our services include: Read more »